Is there a Placeologist in the House? 5 Cool, Walkable Retail Districts to Visit this Thanksgiving Weekend
Your Guide to Cool, Walkable Retail Districts for post-Thanksgiving Strolls (because we know you'll need to take both a physical - and emotional - break during this year's quintessentially American family gathering!)
Seeing that Thanksgiving weekend is upon us, we thought we'd start by profiling five awesome, walkable shopping districts, especially suitable for Small Business Saturday. I've chosen some of my personal favorites from the five U.S. cities I've had the pleasure of calling home at one point or another in order of tenure: Miami, LA, DC, NYC, and Boston. (And for those of you heeding the calls to curb retail spending altogether and instead donating to organizations championing important issues in light of the new political climate, we've compiled a list of sustainability-focused orgs for your convenience).
Old-School (The 90's) Miami: Coconut Grove
I remember when CocoWalk first opened in the heart of Coconut Grove in the 90s. It was the place to be throughout my high school and college years (yes, I am that old!). Developed in 1990, it breathed new life into the then-struggling historic neighborhood. Interestingly, it's the streets that surround the project that seemed to have benefitted most; they are the true (organic) magnet these days. While Miami has been experiencing a burgeoning walkable urban renaissance in the last few years, with areas like Wynwood and Midtown generating new buzz, Coconut Grove still stands as an important walkable oasis in the mostly car-dominated Miami landscape. It's quaint tree-lined streets, limestone-clad buildings, and abundant outdoor dining offer a "lived-in," authentic charm, second to none. Its State of Place captures that, with an overall Index of 99.1 and an impressive balance of destinations, public spaces, and recreational facilities, all in a very aesthetically pleasing, dynamic setting. It's no wonder I'm always drawn back in by its endearing charm on most of my visits back to Miami.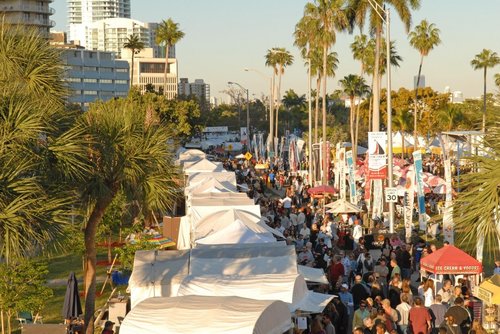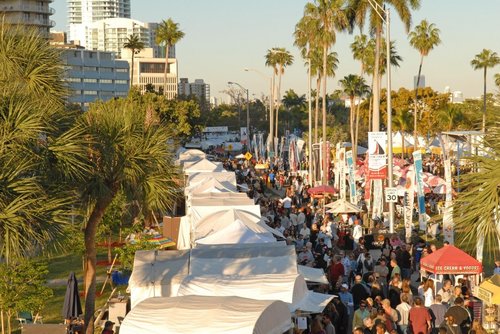 Image Sources: State of Place; Google Maps; thefreehand.com
California Chic: Main Street, Santa Monica
When I first told my family I was moving to Southern California to pursue my Ph.D. at UC Irvine, they were less than enthused - you're going to "Irvin-g" to study walk-a-what? I have to admit, I was pretty nervous leaving my hometown for the first time... especially given I ended up moving five days after 9/11... But hands down, it was the best decision of my life. That said, Irvine left a bit to be desired in the "urban" department. We often joked that it was the best place to learn what *not* to do when planning for walkability. I vowed to move to the "urban" city - LA - as soon as I could. Five and a half years later, I finally got my chance and settled into the quintessentially LA neighborhood - Hancock Park: it felt like I was living on the set of Melrose Place (I have now aged myself twice in one paragraph!).
I explored LA as much as I could during the short five months I lived there and soon learned that there was more to near(ish)-by Santa Monica than the well-known 3rd Street Promenade. So as a little insider's tip, we profiled Main Street in Santa Monica. While 3rd Street is a wonderful example of an uber successful pedestrianized street, Main Street has a decidedly more organic feel, with many locally-based, small boutiques, unique restaurants and coffee shops. Its rhythm of storefronts, outdoor dining, trees, benches, and short blocks make it just as pleasant from a pedestrian perspective, without having to block off car travel. It even has some public spaces and recreational facilities that offer a nice respite if you need to take a break from shopping and eating. While it could benefit from a more balanced mix of uses and some traffic safety improvements, it scored near the 95th percentile, with a State of Place Index of 87.5. LA really doesn't deserve its moniker as the land of the automobile - neighborhoods like Main Street in Santa Monica truly abound; my LA days gave me my first taste of urbanity. And in the nine years since I left, it has satisfied the palates of an increasing number of people craving urbanity.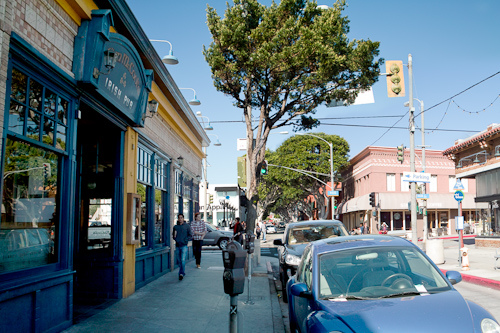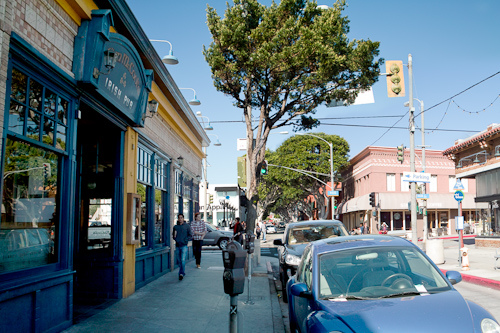 For the Nerdy Hipster: 14th street, Washington, D.C.
When I first came to DC for a postdoc at Virginia Tech, I did so, let's stay, kicking and screaming. I wasn't quite done with my beloved Hancock Park neighborhood in LA. I vowed to stay just nine months. But the combination of the Great Recession, Obama's inauguration, and finally getting to experience true urban living after years of preaching its benefits made me warm up to the city (well, that and the first real winter coat I was compelled to buy!). Over the four years I lived there, our nation's capital really came into its own, in terms of food, shopping, and the arts. Accordingly, we decided to profile the 14th Street district, which, in the time I was there, completely transformed from an edge street sprinkled with a couple of cool shops and restaurants to a bustling, dynamic corridor offering some of the best dining, cocktails, and locally-bred boutiques in town. While 14th street itself can still benefit from some traffic safety improvements, a more balanced mix of uses, and a little aesthetic amping up, with a State of Place Index of 88.2, it still scores in the 96th percentile! With its mix of classically-DC buildings and eclectic, brightly colored facades, strolling down 14th street is a feast for the urban designer geek's eyes (perfect to walk along after a different kind of feast! - sorry, couldn't resist).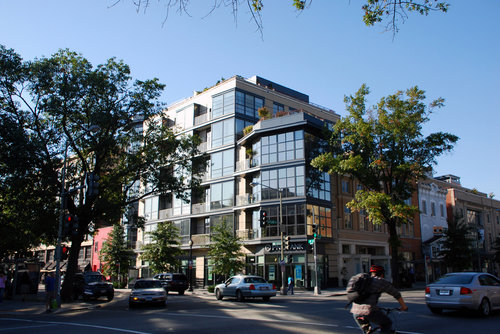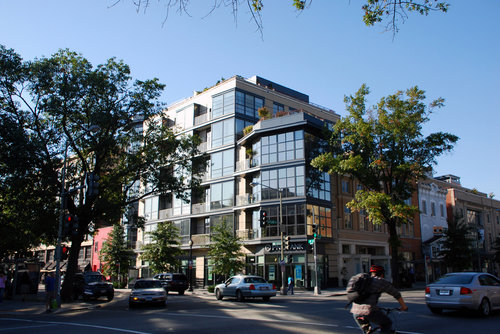 Image sources: State of Place; Google Maps; forum.skyscraperpage.com
For the Quirky Hipster: East Village, New York City, NY
When I got the email from my former Ph.D. advisor asking if she could "twist my arm" to get me to move from DC to NYC, I emphatically answered: No arm twisting necessary - NYC is like every urban designer's Mecca! I lived in the Alphabet City area of the East Village for four fantastic years. A respite from the hustle and bustle of stereotypical New York streets, the East Village has a true neighborhood feel, with narrow, tree-lined streets, pocket parks and secret gardens at nearly every turn, and colorful street art. It's also one of the most diverse neighborhoods I know, not just in population, but "from an urban design perspective" too: painfully-hip bars secretly hidden behind hot dog shops abut micro-local dive bars; old-school bodegas coexist with organic specialty food stores; cute-as-a-button antique stores commingle with well-weathered hardware shops.
Profiled below, 7th, 8th, and 9th, streets, between Ave A. and 3rd Ave, are particularly special blocks, great for window shopping, coffee-sipping, and eclectic bites. With an overall State of Place Index of 100, the human-scale proportions of the streets, the endless number of varied destinations, and great outdoor dining (reflected in its scores of 100 for form, proximity and pedestrian amenities, respectively), it's no wonder I spent so much time aimlessly strolling along these streets!
Top picks:
Image sources: State of Place; Google Maps; wikipedia.org
New England Prep: Newbury Street, Boston, MA
I am delighted that Boston has become my key U.S. base and privileged to have called it home for a few short months between my stints in DC and NYC. I remember the first time I visited Boston...Living in DC, as a newly minted Ph.D. on a lowly postdoc salary still paying down credit card debts and school loans, I decided that it would be a good idea to take the "Owl" Amtrak train up and down to Boston to shave two nights off of my *hostel* bill. Eight hours and one drunk passenger falling over into my seat all the way from the NYC stop later, my hostel room was not quite ready at 8am, so I decided to take on the City. All I can say is that Boston gave me the much needed "hug" I needed. Aside from Rome, Boston was one of the easiest to navigate, compact, just plain beautiful cities I've ever had the pleasure of strolling through, red-eyed and not-so bushy-tailed and all!
And Newberry street was certainly one of the highlights! It's one of our highest scoring neighborhoods, with a State of Place Index of 98.3. It's dripping with charm, with stunning, human-scaled brick buildings, buzzing outdoor cafes, and cozy, narrow streets, as evidenced by its strong scores on form, connectivity, and aesthetics. While there are indeed many national chain stores, it's balanced with many distinctly New England boutiques and eateries and taverns that have clearly stood the test of time, reflected by its high score on proximity, especially for a primarily retail district. While this area itself scored poorly on parks and public spaces, nearby Commonwealth Ave has a splendid pedestrian promenade along its median and the Commons, one of the U.S.'s best public spaces, is within a stone's throw.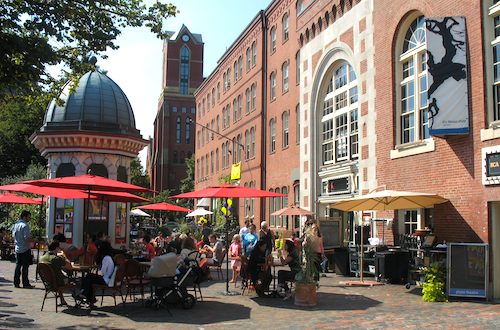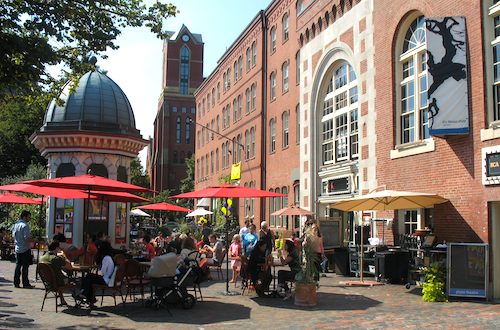 Image source: State of Place; Google Maps; www.boston-discovery-guide.com
We hope you've enjoyed our first Placeologist series! Look for them monthly. And if you have suggestions for places to profile, please contact us at mariela@stateofplace.co OR we'll always happy to chat. Also, if you want to know more about what a State of Place Index of "XX" really means, please check out our handy Index Guide. And as always, for you data geeks, please dig into our methodology here.