Our recent blog about our five favorite walkable, shopping streets to hit up for Small Business Saturday was so successful, we thought we'd follow it up with our top last-minute gift ideas for the urban planner or data geek in your life! Each awesome State of Placer has revealed their top three picks for the holiday season, guaranteed to arrive in time for Christmas, Hanukkah, Kwanzaa, Three Kings Day (Los Reyes Magos), Festivus or whatever other holiday you're celebrating this season. Check them out below!
Sidenote: if you're interested in giving the "gift" of better places to people in your city, we'd love to help you! We help cities make the case for great places by quantifying what it is that people love about cities (like walkability) and why it makes economic sense to make them better - not to mention by helping you identify the kinds of projects that will fit your budget, increase quality of life, and boost economic competitiveness! Preview our platform, send us a note, or book a time to chat!
Games for Urbanists and their Kids!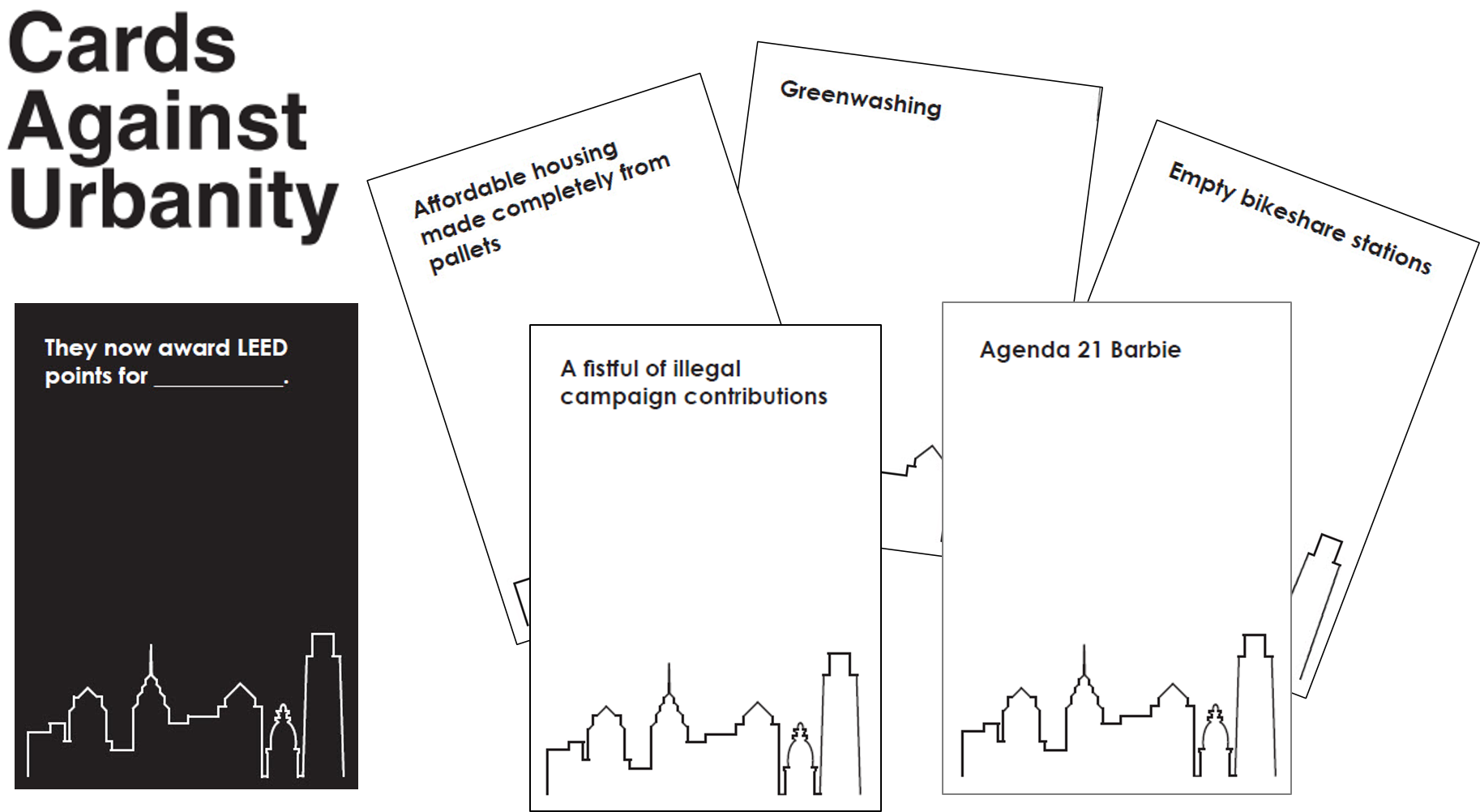 Creator's Description: Cards Against Urbanity is what happens when you drink at urban planning conferences. It also made us rethink the tools we as professionals use for engagement - and in 2016 we plan to completely reshape how people connect with the cities, towns and neighborhoods where they live. Similar to Cards Against Humanity*, the game decks have question and answer cards. Players take turns judging a question round; he or she picks a card with a question about cities and neighborhoods. Players then try to appeal to the judge by throwing down answer cards from their hand.
Founder/CEO Mariela's Recommendation: Ok, so we've had a lofty goal to play this game virtually with our team for over a year and have yet to do so...BUT, I LOVE the original version, Cards Against Humanity, and have seen the hilarious, equally irreverent, planning-themed cards the brilliant creators have come up with , and I'm determined to play it - even if I have to convince (trick) my fiance and his Food & Beverage friends to play with me (even if I have to cook and make cocktails to get them to indulge my urbanerdness)! In my defense, the "multi-modal" martini card does bring our worlds together!
Cost: Free and up
Make your own here
More info here: https://www.cnu.org/publicsquare/cards-urbanity
COO Michelle's Recommendation: For urban planner parents looking to share their love of planning and developing towns from a bird's eye view, legos are a wonderful way to experience planning with kids of all ages! You can even select "cities" to narrow down the products you and the kids (or adult kids) in your family would enjoy! And, to experience amazing places around the world in small scale, Architecture LEGO is a brilliant way to build and learn about architecture from around the world. Finally, if you are a LEGO enthusiast and you've already got titles like AICP and LEED AP after your name, you might want to consider becoming a LEGO Certified Professional!
Cost: $50+
Buy here
Creator's Description: We're two moms (and best friends) who have a shared vision: inspiring children to learn about the world. That's why, in 2009, we launched Little Passports. Growing up, we were both exposed to different cultures, whether it was moving between the US and England, or growing up in a Chinese-American household. Those personal experiences taught us how important it is for children to learn about geography and the world around us. Now that we have children, it's important to us to provide those opportunities to learn while inspiring the imagination. At Little Passports, our subscriptions create those opportunities, and certainly spark the imagination! Our products deliver discovery and adventure to children of all ages, and we've also built a wonderful community of parents, grandparents and educators that share our vision. All together, we have built a business that we are incredibly proud of.
Founder/CEO Mariela's Recommendation: I discovered this super cool gift idea a few years ago, a bit before my niece and goddaughter were quite ready for it. But I am SO getting this for both of them this year. They always want to explore Google Maps and Earth with me - and "see" China - much to my urban geek heart's delight! Now they'll be able to learn about many other great cities and hopefully catch my wanderlust (and love of cities) while they're at it!
Cost: From $11.95/mo (Order by today - 12/20 - to get it in time for Christmas!)
Buy here
FRESH Urban READS for 2017
Amazing Treats for Urban Geeks!
Marketing Manager Anna's Recommendation: This fabulous adult coloring book is designed for true urbanists. Check out the amazing architecture and planning of cities around the world: Rio, Istanbul, Paris. Imagine these locations in a new color of your choice and reduce your stress levels while coloring a new city or building! Don't forget to get a set of coloring pens and pencils to draw on the crisp white paper!
Cost: $12.08
Buy here
COO Michelle's Recommendation: For the planners who embrace sustainability, environmental protection and conservation, the Planet Earth documentaries are the perfect gift to experience our planet on the screen, where you watch your favorite movies and shows. It's a glimpse into often unseen places in nature presenting incredible biodiversity and beautiful natural environments. It's also a reminder of the fragility of our planet and why planners and environmentalists play an important role in society.
Cost: Together, $86.98
COO Michelle's Recommendation: Looking for a memorable experience to ring in the new year in a fabulous, diverse, walkable city? London is the place to be! Ring in 2017 on foot while watching spectacular world-class fireworks from historic vantage points around Central London. Although the official vantage points on the Thames River are already sold out, you can still find "worst kept secret" places to view the fireworks for free and walk around the city among celebratory crowds. Transport for London offers free travel on their network (Tube, London Overground, buses, the DLR, TfL Rail and Trams) from 11:45 pm to 4:30 am, which means you can enjoy festive libations without worrying about having to drive at the end of the night! Even if you can't find a perfect place to view the fireworks, you can book dinner reservations at a great restaurant and walk the streets of London with happy crowds. British Airways has last minute deals and you can always search Kayak.com or other similar websites for package deals. Happy New Year!
Cost: From about $689+
Buy/Info at variety of websites below:
British Airways Airfare/Hotel Late Deals
London NYE FAQ (Info About the Official Fireworks Vantage Points)
If none of these quite strike your (urban) fancy and/or if you would like to contribute to a worthwhile, now-needed-more-than-ever urban-focused NGO, please do check out our running list of awesome orgs here!
Hope you enjoyed our picks! We'd love to know your top choices as well. Please post in the comments!